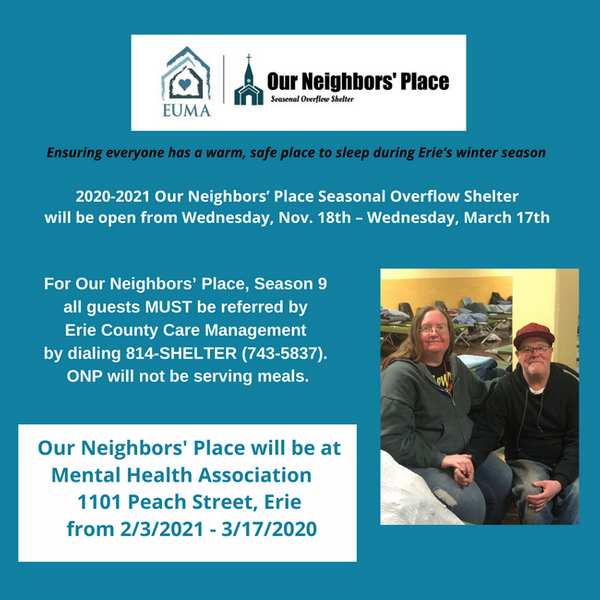 Our Neighbors' Place Seasonal Overflow Shelter
Ensuring everyone has a warm, safe place to sleep during Erie's winter season
---
Click here for full season schedule
---
Due to COVID-19, and the safety of all involved, some changes have been made to Our Neighbors' Place for the 2020-2021 Season.
For Our Neighbors' Place, Season 9 all guests MUST be referred by Erie County Care Management by dialing 814-SHELTER (743-5837). ONP will not be serving meals.
VOLUNTEERS NEEDED
A great number of regular volunteers are over age 65, and due to the virus, are unable to volunteer this year. Please click the link below to learn more about volunteer opportunities and sign up.
---
About Our Neighbors' Place Seasonal Shelter
A community effort, ONP operates on a rotating basis among several downtown Erie churches every two weeks during the winter season. Guests are provided two simple meals, the opportunity to shower, a place to sleep, chaplain services and are introduced to available homeless services. ONP typically begins its season in mid-November and operates through the end of March.
Doors open each night at 7:30 p.m. and guests can stay until 7 a.m. the next morning.
Who We Serve:
·   Any homeless man or woman
How We Serve:
·   Provide overnight, indoor places to sleep
·   Serve meals
·   Connection with chaplain services
·   Resources for homeless services
How You Can Help:
·   Volunteer - if you, your church or community organization would like to be contacted about
    volunteering, please email info@euma-erie.org.
·   To support ONP with a monetary donation, visit our Donate page. 
·  Take steps to end homelessness through ONP. Sign up to walk with EUMA in the Highmark Walk for a Healthy Community on
    May 30 (registration opening Feb. 1) - money raised by EUMA walkers will benefit the ONP program.
·   For a list of needed ministry supplies, visit our Needed Supplies page.