Highmark Walk for a Healthy Community Virtual Walk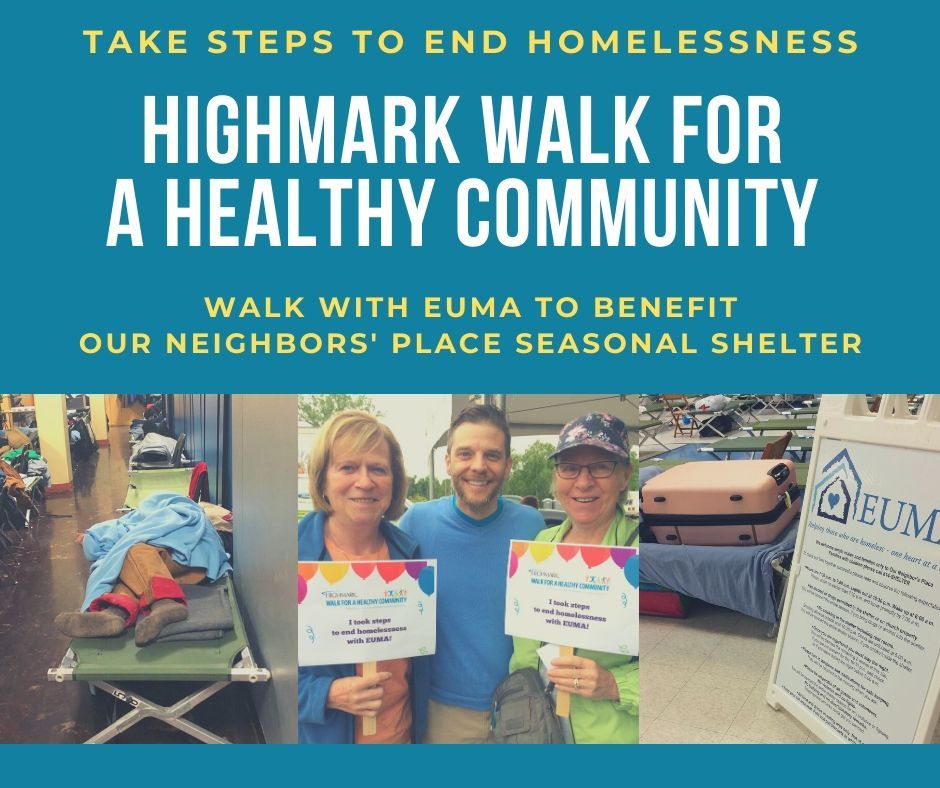 Take steps - from anywhere - to end homelessness with EUMA through the Highmark Walk for a Healthy Community Virtual Walk!
Out of an abundance of caution, and for the protection and safety of participants and volunteers - the 2020 Highmark Walks for a Healthy Community will be an online only fundraiser and virtual walk for this year's campaign. EUMA is raising support for Our Neighbors' Place Seasonal Shelter – in fact, 100% of money raised by our walkers will support this vital program. Interested teams and walkers can still participate by:
* Signing up to walk with EUMA at http://hcf.convio.net/euma. It's free to register.
* Ask friends and family to support your walk with a donation to Our Neighbors' Place Seasonal Shelter. Direct folks to support you online through your personal fundraising page (automatically set-up when you register to walk) or at EUMA's Highmark Walk page at http://hcf.convio.net/euma.
* Then, anytime between May 9 – June 30, you choose how and when you walk (treadmill, park or trail, or around the neighborhood) – it's your choice! You also pick the time of when you start and stop!
KURT'S HIGHMARK WALK
On Saturday, May 30 - EUMA Executive Director Kurt Crays will walk 5.5 miles to each of the ONP host churches. Along the route, he will also make stops at Grapevine Laundry (to recognize them for their partnership in the ONP ministry by helping with daily laundry services) and at Highmark BCBS (to thank and recognize them as the organizers of the Highmark Walk).
Donations to Kurt's walk in support of ONP can be made by clicking here (http://hcf.convio.net/site/TR/Erie/HighmarkWalk?px=1106029&pg=personal&fr_id=2938) or mailing to: EUMA, "Kurt's Walk", 1033 E. 26th St., Erie, PA 16504.
ABOUT OUR NEIGHBORS' PLACE SEASONAL SHELTER
A project of the faith community, Our Neighbors' Place Seasonal Shelter operates on a rotating basis among several downtown Erie churches every two weeks during the winter season. Guests are provided two simple meals, the opportunity to shower, a place to sleep, chaplain services and are introduced to available homeless services. During the 2018-19 season, 5,890 bed nights were provided to 342 homeless men and women, and 35 individuals were moved from homelessness to a permanent home of their own.
More details about the Walk from our friends at Highmark Blue Cross Blue Shield:
* This year to keep up the momentum of individual fundraising, Highmark Blue Cross Blue Shield has lowered the minimum amount raised to receive a t-shirt to $15 before June 30, 2020. (previous amount $30). T-shirts will be distributed to organizational leaders in July.
* Highmark Blue Cross Blue Shield will continue to offer (1) raffle ticket for every $50 raised. Raffle chances are tracked online within the individual walker milestone tracker on the Luminate online system. All donations much be credited to the individual walker account by the walk organization by June 30, 2020. Prizes will be distributed in July.